2019 PRESENTER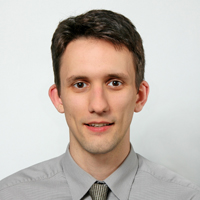 Douglas J. Hartman, MD
Associate Professor
University of Pittsburgh Medical Center
Presenting
Establishing an Image Analysis Lab: Developing Quantitative Image Analysis for CD8 Cells in Tissue
Abstract
Background: Numerous papers have published about the clinical significance of CD8 cells within various tumor types. Our clinical colleagues have been requesting that we begin to provide an assessment of the quantity of CD8 cells within tissue. By light microscopy, this is generally performed in a semi-quantitative fashion. We set out to create an automated method for the quantification of CD8 cells within tissue sections for Head and Neck Squamous cell carcinoma cases. Methods: Using the Leica image analysis platform, we optimized a cytoplasmic image analysis algorithm. This was optimized by manually counting all of the CD8 cells (as identified by a CD8 immunostain) within multiple cores within a lung cancer tissue microarray. Once the algorithm was optimized, we tested it out on 74 cases of Head and Neck Squamous cell carcinoma with known outcome. We then created a quality control system to ensure that the system is performing correctly. Results: We went LIVE with reporting CD8 cell density for Head and Neck Squamous cell carcinomas in the September 2018. Feedback from numerous stakeholders was necessary throughout the process. Through this process, insight about the deployment of image analysis to a diagnostic pathology department was learned. Conclusions: Establishing a clinically directed image analysis required engagement with numerous stakeholders to ensure that the image algorithms were properly performed and satisfied the clinical needs. Performing ongoing quality control is necessary to ensure that the performance of image analysis is robust and reliable and can be used for clinical care.
Objectives
Describe the regulations surrounding image analysis

Describe how to set up an image analysis lab

Discuss the challenges related to automated image analysis for clinical cases
Biography
Dr. Hartman is board certified in Anatomic and Clinical Pathology and Clinical Informatics and practices in gastrointestinal pathology and pathology informatics. He has published in multiple journals on topics in both gastrointestinal pathology and clinical informatics and regularly speaks at conferences and workshops about digital pathology. He is Director of Pathology Informatics and is implementing digital pathology at his institution. He has brought up an automated image analysis laboratory using digital pathology and is the Director of the Image Analysis lab at UPMC.