2018 PRESENTER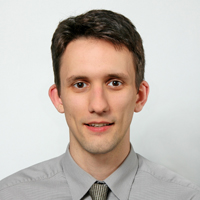 Douglas J. Hartman, MD
Associate Professor of Pathology; Director for Division of Pathology Informatics
University of Pittsburgh Medical Center
Presenting
Use Case for Digital Pathology with Tutor
Abstract
Background: Educational use cases for digital pathology have been a core use case for many years. However, only a few educational focused software platforms have been developed. We have implemented a dedicated educational software platform (Philips Tutor) for more than a year. The aim of this talk is to share our experience using this digital education tool. Methods: Philips Tutor was deployed at UPMC as a web-based application to provide our trainees access to whole slide images and educational content. User profiles were tailored with permissions for the material that they are interested in. Results: The principle use cases include weekly unknown conferences for the residents/housestaff, fixed educational courses (cytotechnologist school) and slide teaching sets. We have been able to run 48 weekly unknown conferences during a year and a half time period. Recently we introduced a compliance/competency test into the environment. Conclusions: We have found that using a dedicated educational platform is helpful for segregating the educational digital materials from the clinical material and easier to maintain form an IT perspective. Future work that we would like to engage in includes exams with annotations as answers, random question generation and personal slide recuts.
Objectives
Describe education software functions
Describe use cases that be used for education
Understand how digital pathology integrates with education
Biography
Dr. Douglas J. Hartman is the Associate Director of the Division of Pathology Informatics at the University of Pittsburgh Medical Center (UPMC) and a gastrointestinal pathologist. He has been implementing digital pathology for primary signout as well as for telepathology at UPMC. He is the director for Image Analysis at the University of Pittsburgh Medical Center and has developed several image analysis assays. He has developed a smartphone application titled "Pocket Pathologist" for the rapid submission of consultations using a smartphone. Dr. Hartman has also been a leader within the UPMC health system in assessing the recent Safety Assurance Factors for EHR Resilience guidelines released by the United States Office of National Coordinator for Health Information Technology. Dr. Hartman's research in informatics is varied but focuses on practical application of informatics. He has published on informatics topics and given national talks based on his informatics work.