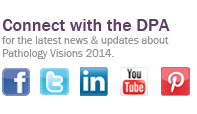 Is In-Sourcing for Me? -- Selection and Implementation of a Digital Pathology Consultation Platform

Presented by:
Lewis A. Hassell, MD (Chair)
Thomas W. Bauer, MD, PhD
Toby Cornish, MD, PhD
Anil Parwani, MD, PhD


Whole slide imaging (WSI) is accelerating the potential to provide powerful solutions for domestic and international consultation, via an enhanced all-digital anatomic pathology workflow. Deployment of these tools for consultation requires understanding of the business, cultural, regulatory as well as technology issues. The process of selecting and implementing a WSI platform/solution for consultations may be a daunting task in settings where pathologists involved in the selection process have limited technical background or operational experience. This session assembles a collection of current best practices, which are based upon the broad experiential input from actual first-adopters and the vendors which are continually building solutions for these users.
This workshop will address the above unmet need, with specific coverage of areas unique to selecting the tools and implementing a digital consult services. There will be discussion of building a home-crafted solution compared to buying a solution "off the shelf" or using a third party teleconsultation network. These approaches will be discussed from the viewpoints of motivation, cost, implementation requirements, LIS integration and workflow. The workshop will conclude with a walk-through exercise of the process of implementing and using a complete consult solution, pointing out common pitfalls and oversights with interactive demonstrations from the major products in this space. Panel discussion with Q&A will supplement didactic presentations.
Objectives:
Participants will gain an understanding of the types of digital consultations that may be performed using available technologies.
Participants will gain an understanding of challenges and barriers which may be encountered in setting up a successful digital consult practice.
Participants will differentiate between the different approaches to realizing a digital consultation service.