PV22 PRESENTER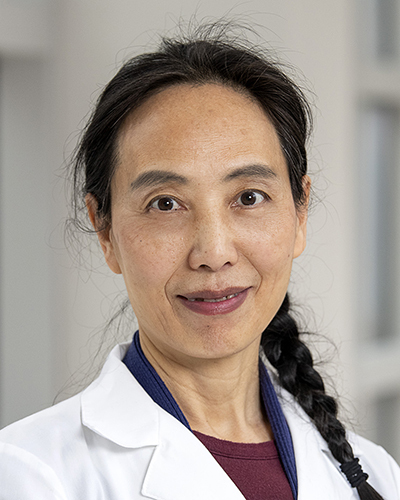 Shaoli Sun, MD
Clinical Professor of Pathology
Ohio State University
Presenting
An AI-based lymph node metastasis detection application improves pathologists' efficiency
Abstract
Background: An accurate detection of tumor metastasis to lymph nodes is a critical diagnostic task frequently undertaken by pathologists to provide prognostic information and guide treatment. Due to challenging tumor morphologies and/or the size of micro-metastases, pathologists are often forced to spend considerable time searching for tumor cells in lymph nodes and request additional immunohistochemical (IHC) stains. This not only burdens the labs with additional works and costs, but also increases turnaround times.
Methods: The Visiopharm metastasis detection application (app), trained from lymph node metastases from both breast and colon cancers, was used in this study on a multitude of tumor types to explore the possibility that the app can recognize other tumor types and also decrease time used to detect tumor metastases in lymph nodes.
Results: 78 Hematoxylin and eosin (H&E) stained slides with corresponding IHC stains were selected retrospectively for this project. It comprised 30 positive and 48 negative slides for lymph node metastases with 12 different tumor types from 8 organ systems. All of the cases were challenging and requiring the IHC stains for accurate diagnoses.Diagnosis (positive or negative for tumor) and the corresponding time spent for rendering the diagnosis upon reviewing H&E slide only, H&E with app assistance, and H&E with IHC stain assistance were recorded from three pathologists with a 2-week time interval between each run to minimize pathologist's recollection regarding the diagnosis. The result showed that the app assistance significantly decreased the time spent for diagnosis compared to H&E alone for all three pathologists. The time-saving effect was more dramatic for slower reader (average reading time per case dropped from 81 to 24 seconds with app assistance) than faster reader (average reading time per case dropped from 22 to 19 seconds with app assistance). There was no significant difference in terms of accuracy between H&E evaluations with and without app assistance (both with accuracy of 95%). Although IHC stain assistance consistently achieved both the greatest efficiency and accuracy among all three runs (average reading time 12 seconds per case, with accuracy of 97%), in the two occasions that the IHC reading missed the tumor, the app helped to mark the micro-metastases areas. Thus, H&E evaluations with assistance from both the IHC stains and the app performed the best in terms of speed (average 12 seconds per case) and accuracy (100%).
Conclusions: Our study is the first to apply an app trained from 2 organ systems to a dataset composed of 12 tumor types from 8 organ systems. The diversity in its training data has clearly enabled its broad recognition of multiple tumor types. In addition, the app assistance can also significantly decrease the time needed for metastasis detection. Our initial experiences have been extremely positive, and our future efforts are focused on improving accessibility of pathologists to the apps as well as building integrated workflows within the clinical environment so that these apps can be used in real time to improve patient care.
Objectives
Well trained AI-based app can improve pathologists' efficiency.

App trained from tumor metastases in one organ system can recognize tumors from other organ system.

App assistance can help IHC stain reading and improve pathologist's overall efficiency and accuracy.
Biography
Dr. Shaoli Sun received her MD from Zhengzhou University School of Medicine in China, finished AP/CP residency in Icahn School of Medicine at Mount Sinai in New York City in 1997, and became a gastrointestinal (GI) pathologist after learning GI pathology from the most knowledgeable and inspiring mentor Dr. Rodger Haggitt. After practicing GI pathology for more than 20 years and working in a fully digitized lab, she felt so privileged to be a user of digital pathology for daily work. Seeing how much digital pathology can do inspired her to explore and develop more tools for pathologists to use. It is her dream to bring artificial intelligence into pathologists' practice to improve patient care.