2014 CLOSING PRESENTER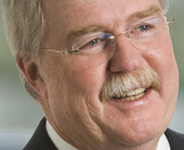 Thomas Grogan, MD
Professor Emeritus of Pathology, University of Arizona
Founder and Director of Medical Innovation, Ventana Medical Systems, Inc.


Presenting:
The Surgical Pathology Lab of the Future Aided by Digital Pathology


Abstract: The surgical pathology lab of the future will deliver more results relevant to patient prognosis and therapy. It will deliver more molecular-based assays. It will deliver more automated standardized results and it will need to communicate results better. It must go beyond single analytic to multiplexing, beyond protein to gene plus protein assays, beyond qualitative to quantitative assays, beyond informatics to cellular informatics, and finally beyond written reports to patient-centric reports. Slide-based tissue chemistry will be pivotal as it provides for the chemistry of lesional tissue and chemistry in context. The importance of chemistry in morpholic context is that it allows delineation of heterogeneity, functional morphology, immune host response and molecular driven events relevant to new therapies. This requires the next generation of probes and antibodies with improved detection and next generation platforms for pre-analytics, H&E, IHC/ISH and DP via an integrated pathology work station. Medical cases will be presented to demonstrate the convergence and diagnostic power of these next generation assays and platforms.

Biography: Dr. Grogan is Director of Medical Innovation for Ventana and is a member of the company's executive management team. He monitors and evaluates the development of novel therapeutics from biotechnology and pharmaceutical companies and assists in the establishment of strategic alliances and other collaborations to develop diagnostic tests for targeted therapeutics. He works closely with the Ventana engineering team to ensure successful transfer of reagent research products from research to development and is integrally involved in the successful commercialization of these products on Ventana platforms.

Grogan is professor emeritus of pathology in the University of Arizona College of Medicine. He remains actively involved in teaching residents, medical students and fellows at the University. His clinical practice contributions have been recognized and named in The Best Doctors in America (Woodward/White) continuously since 1991.