PV20 PRESENTER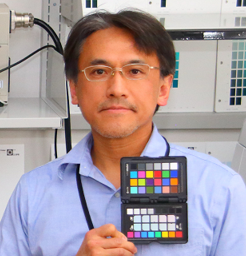 Wei-Chung Cheng, PhD
Scientist
Food and Drug Administration (FDA)
Presenting
Pixel-wise comparison of whole-slide imaging viewers
Abstract
The whole-slide imaging (WSI) viewer is the digital component of a WSI system that first interprets the WSI file generated by the scanner component and then reproduces the image on the display component. Since WSI viewers operate exclusively in the digital domain, showing equivalence of a third-party WSI viewer to the reference is the easiest pathway if identical images can be reproduced at the pixel level. Comparing images at the pixel level requires accurate image registration within the viewer application. When the registration is done by a human controlling the graphical user interface, the tedious task can be time-consuming and therefore limit the sample size required for regulatory purposes. In this study, a software tool was developed for determining the pixel-level equivalence between two viewers. Given two viewers opening the same digital slide, the tool automatically registers the image pair by a series of zooming and panning operations conducted by sending keyboard and mouse events to the graphical user interface. The differences between the two registered images are then computed for each pixel. Experiments were conducted to test three freely available third-party WSI viewers with 100 regions of interest. The results show that some WSI viewers exhibit greater discrepancies, which originate from not only the color processing and image compression pipeline, but also the tile stitching algorithm. The tool was demonstrated to be useful for measuring pixel-level equivalence between different viewer products and also detecting programming errors in the development phase.
Objective
Know existing bench testing methods for evaluating equivalence between WSI viewers
Biography
Wei-Chung Cheng is a research scientist at Food and Drug Administration (FDA). He received a PhD in electrical engineering from University of Southern California. His research interests include color imaging systems, color vision, and display systems.