2017 KEYNOTE PRESENTER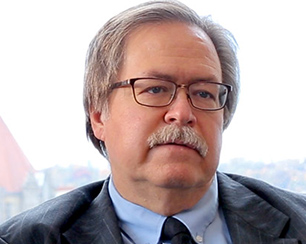 Michael J. Becich, MD, PhD
Chairman and Distinguished University Professor
University of Pittsburgh School of Medicine
Presenting
Towards A Digital Pathology Commons
Abstract
National Institute of Health is focused on creating data commons including funding the NCI's Genome Data Commons to enable and promote data sharing for discovery science and health. The Pathology Imaging community needs to develop infrastructure for a Digital Pathology Data Commons that can contribute to the important clinical and translational opportunities that imaging data sharing provides both clinical care and industry. To take advantage of these major opportunities we need to develop a plan for a Data Commons based on FAIR (F=findable, A=accessible, I=interoperable, R=reusable) which will require deep annotation of images and linkage to other aspects of the health care record. To accomplish this we need to consider the highest value research and teaching data including patient data which could be developed into a large scale sharable repository and "best of breed" information systems which serve the needs of students, researchers and industry partners. The coupling of genomic data and other laboratory data (anatomic, clinical and molecular pathology records) in an innovative fashion should help to establish other best of breed information practices for precision medicine.
Objectives
To understand the concept of a data commons and its role in digital pathology's vision
To understand FAIR principles in data sharing as applied to pathology imaging
To envision a road map for industry and academia partnership for an imaging data commons to enable precision medicine
Biography
Mike is an experimental surgical pathologist who is focused on translational informatics. His expertise lies at the interface of discovery science and clinical/translational sciences and is funded by several NIH agencies. He was a founder of the Association for Pathology Informatics and partnered in supporting the Journal for Pathology Informatics and the Pathology Informatics Summit. He has been involved in digital pathology since its inception and is a champion for computational pathology and STEM education. His current projects involve creating data commons to ensure FAIR (F=findable, A=accessible, I=interoperable, R=reusable) data principles and best practice software development to enable precision medicine.