PV22 PRESENTER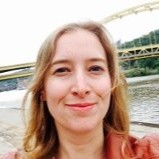 Bethany Williams, MBBS, PhD
Lead for Training and Education
National Pthology Imaging Co-Operative
Presenting
Patient and Public Involvement in Digital Pathology and AI
Abstract
Background: Digital pathology and image based artificial intelligence are technologies which we believe pathology departments will find invaluable in the quest to maintain and improve services, but it is important not to lose sight of the effects of digitisation on individual patients, and society as a whole. At the National Pathology Imaging Co-Operative (NPIC) we are committed to putting the patient and public at the front and centre of our endeavours, and in this session we will share our approach to authentic public and patient participation.
Methods and Results: We will discuss and share insights from our Patient and Public Advisory Group, which allow us to understand public perspectives, interests and concerns and challenge our assumptions. Partnership with the group has allowed us to co-create public engagement materials, including website materials and museum exhibits that aim to demystify digital pathology and healthcare AI for the lay audience. We will discuss the challenges and limitations of implementing public engagement and involvement initiatives, and propose novel ways to include patients and the public in the implementation of AI programs, including the use of citizens panels and juries, and the involvement of members of the public in data access commitees and other forums.
Conclusions: Patient and public engagement and involvement in digital pathology and related AI programmes can help influence the way pathology diagnostic services are designed and governed to make sure they are as effective as possible for patients. This work is often neglected and viewed as tick-box exercise, when it should form a central part of planning and governance.
Objectives
Give examples of ways to involve patients and members of the public in the design and evaluation of digital pathology/AI programmes

Understand some of the key concerns of the public regarding AI use in healthcare

Understand the concept of a citizens jury/citizens panel
Biography
Dr. Bethany Williams is a Specialty Doctor at Leeds Teaching Hospitals NHS Trust and the University of Leeds, and the Lead for Training, Validation and Patient and Public Involvement and Engagement (PPIE) at the National Pathology Imaging Co-Operative in the United Kingdom. She has published extensively in the fields of digital pathology patient safety, evidence based digital pathology training and validation and effective digital deployment. Her body of research earned her the Pathological Society's medal for research impact, and she is regularly invited to speak at international conferences as an authority on the digital pathology evidence base, practical deployment and patient safety.