PV20 PRESENTER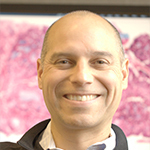 Richard Torres, MD, MS
Assistant Professor
Yale School of Medicine
Presenting
Skip the Slide: CHiMP for Practical Digital Histology without Physical Slides
Abstract
Background: Whole slide imaging (WSI) provides remote viewing capabilities and enables use of image analysis tools, but adds cost and work, delays access to diagnostic information, introduces image artifacts, and does not address shortcomings of traditional processing. Interest in "slide-free" histology techniques stems from standard histology limitations: slow, labor-intensive processes, associated with artifacts, process errors, and requiring technical skill that is increasingly in short supply. But the general perception is that "slide-free" technologies are prone to being slow or costly, and, critically, produce inferior image quality, necessitating traditional processing for definitive diagnosis. Methods: Clearing Histology with MultiPhoton Microscopy (CHiMP) is an emerging technique for digital slide preparation using fluorescent imaging via multiphoton laser microscopy of un-cut biopsies, producing hematoxylin-eosin (H&E)-like images while avoiding labor-intensive steps of standard processing. Recent advances in speed and quality have motivated clinical evaluation in a variety of tissues, including clinical studies with kidney and prostate biopsies. Results: CHiMP has produced histologic images virtually indistinguishable from standard H&E slides with fully recognizable histologic features. Relative standard histology, significant improvements have been observed in processing times, labor and labor complexity, reviewable image volume, three-dimensional perspective and artifact reduction, resulting in diagnostic interpretations that are at least as accurate as physical slide review. Conclusions: CHiMP shows viability as a replacement of physical slides, providing primary diagnostic quality images with significant time and labor efficiency benefits, potentiating a much more efficient intrinsically-digital workflow. Clinical data to date illustrate how to achieve practical implementation of this new approach.
Objectives
Define technique characterized as CHiMP digital pathology

Compare CHiMP digital approach to standard histology with WSI

Describe clinical studies using CHiMP
Biography
Dr. Torres is an Assitant Professor of Laboratory Medicine at the Yale School of Medicine and a hematopathologist with clinical practive in flow cytometry, pathology informatics, and molecular diagnostics of hematopoietic diseases. He is Medical Director of the Flow Cytometry Laboratory and the Immunology Laboratory at Yale-New Haven Hospital. His research laboratory applies angineering advances to medical laboratory diagnostics with primary work on the development and implementation of multiphoton microscopy for clinical and investigative use.