2019 PRESENTER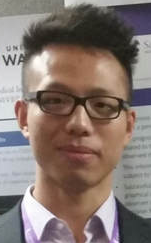 Wenchao Han
PhD student, Research assistant
Western University
Presenting
Prostate Cancer Grading on Gigapixel Microscopy Images Using Machine Learning
Abstract
Introduction: Radical prostatectomy surgical pathology interpretation is typically qualitative and subject to intra- and inter-observer variability. Identification of high-grade cancer is important since the presence of high-grade cancer usually leads to very different prognostic outcomes and influences post-surgical treatment. We developed and validated a software platform that can automatically grade cancerous regions on whole-mount digital histopathology images to support quantitative and visual reporting. Methods: Our study used hæmatoxylin- and eosin-stained digital histology images scanned at 0.5µm/pixel from 245 mid-gland tissue sections from 70 radical prostatectomy patients, comprising 27,228 480μm×480μm regions-of-interest (ROIs) covering all high- and low-grade cancerous regions. Each cancerous region was annotated and graded by an expert genitourinary pathologist. We used our previously proposed algorithm to label each pixel as nuclei, lumen, stroma/other to generate tissue component maps (TCMs). We used 7 different machine learning approaches (3 non-deep learning and 4 deep learning) to classify each cancerous ROI as high- or low-grade with validation against the expert annotations using leave-one-patient-out cross-validation. Results: Fine-tuned AlexNet with ROIs of raw images yielded the best results in grading high (Gleason-Pattern 4 (G4)) vs. low (G3), with area-under-the-receiver-operating-characteristic-curve (AUC) of 0.934. Fine-tuned AlexNet with ROIs of TCMs yielded the best results in grading high (G4 and G5 involved tissue) vs. low (G3) with an AUC of 0.923. Conclusion: Deep learning-based approaches outperformed non-deep learning based approaches for prostate cancer grading. TCMs provide the primary cues for prostate cancer grading. The system is ready for multi-center validation and user study toward translational application.
Objectives
Understand the clinical challenges in prostate cancer histopathology

Understand the potential of imaging to benefit the pathological applications using machine learning

Understand the basic concepts of machine learning (including deep learning)

Understand the application cases of using machine learning on prostate cancer detection and grading

Understand pros and cons of using different machine learning methods from the example cases and the future outlook in digital histopathology
Biography
Wenchao Han is a PhD candidate in the Department of Medical Biophysics at Western University, Canada since 2014. He is also a research assistant affiliated with the Baines Imaging Laboratory, Lawson Research Institute, London Health Science Center, Ontario, Canada. He received his bachelor's degree of Science in Optical Information Science and Technology at Huazhong University of Science and Technology, Wuhan, China (2006-2010). From 2010 to 2011, he worked as an engineer in the department of marketing and products at Fiberhome Technology Co. Ltd. He received his Master's degree of Engineering in Communication System of Data Networking at Western University (2012-2013). His research mainly focuses on processing digital histopathology images of prostate tissues using machine learning. His work includes tissue components segmentation, prostate cancer detection and grading using conventional machine learning and deep learning. He is currently seeking to validate the machine learning system across multiple centers and conduct user studies.