by Chhavi Chauhan, PhD, Director of Scientific Outreach, The American Society for Investigative Pathology; Director of Continuing Medical Education, The Journal of Molecular Diagnostics
I am a strong proponent of equitable and accessible education. I was thrilled at the opportunity to organize and chair the in-person American Society for Investigative Pathology (ASIP)'s Companion Meeting at USCAP 2022 in Los Angeles, CA last week.
Like everything else, our approach to pathology education has shifted considerably during the pandemic. The topic I picked for this Companion Meeting was "Digital Transformation of Pathology Education" that featured four excellent educators who have been pushing the frontiers of pathology education to eliminate gaps in knowledge and elevate the standards of pathology education worldwide.
Pathology education is undergoing the much-needed digital transformation as educators, trainees, and professionals from various disciplines adapt to as well as adopt emerging tools and technology. The handpicked expert panellists discussed the emerging resources, tools, and examples of educational innovations in digital pathology based on their clinical practice and evolving educational ecosystem at their organizations.
Dr. Kamran Mirza, an Associate Professor at my alma mater Loyola University Chicago Stritch School of Medicine and Parkinson School of Health Sciences and Public Health in Maywood, IL, the Vice-Chair of Education and the Director of medical student pathology education in the Department of Pathology and Laboratory Medicine, and a health equity advocate for Stritch School of Medicine, IL opened up the session. Dr. Mirza's talk focused on the undergraduate, graduate, and resident perspectives on education in digital pathology. He highlighted the success and workings of PathElective.com, a free, modular website launched in the summer of 2020 that has provided pathology education to over 100,000 users across the world in the past year alone. It was truly remarkable to see how the footprint of PathElective.com has already extended to 41 nations and is growing as I write this piece. Dr. Mirza shared the inner workings of the cutting edge data-driven analytics for this pathology education platform that can monitor various engagement statistics of all participants to help improve the quality of content as well as students' engagement and the extent of satisfaction for every offering.
Dr. Catarina Eloy who is a pathologist at IPATIMUP, Porto, Portugal where she directs a fully digital and accredited laboratory and is also the current President of the European Society of Digital and Integrative Pathology shared European perspectives next. Her talk focused on the challenges of professional continuing education in the era of digital pathology. She shared real world evidence of improved efficiencies of processes such as communication, tracking, quality control, validation, management, and high-throughput processing with automation. With her experience and perspectives of a holistic concept of digital pathology, she emphasized that the future of pathology is digital.
Dr. Marilyn Bui, Scientific Director of the Analytic Microscopy Core, and Director of the Cytopathology Fellowship at the Moffitt Cancer Center in Tampa, FL shared her perspectives next. Dr. Bui, who is an educator, discussed the current and emerging concepts and future applications of Digital Anatomic Pathology Academy (DAPA), a resource created by herself and Dr. Rajendra Singh of Summit Health. DAPA is an innovative cloud-based free educational platform for all Digital Pathology Association (DPA) members. DAPA is an easy-to-use platform for trainees, faculty, and pathology departments that provides high quality curated content validated by experts. DAPA is easily accessible from any device, anywhere, and is a modern tool that fits into the pathology education workflow seamlessly. DAPA will truly remove the barriers to pathology training and continuing medical education for pathologists across geographies.
To conclude the session, Dr. Liron Pantanowitz, Professor in the Department of Pathology and the Director of Anatomical Pathology at the University of Michigan in Ann Arbor, MI talked about the future of pathology work and didactic learning after COVID-19. From his talk, it was evident that adoption of digital pathology would be the most effective way of circumventing the current and emerging challenges facing the pathology departments and education system. He highlighted the significance of the rapid institution of needed infrastructure and frameworks for remote sign-out, supported by the College of American Pathologist (CAP) and Centers for Medical and Medicaid Services (CMS) and instituted by the Clinical Laboratory Improvement Amendments (CLIA) during the pandemic. Dr. Pantanowitz shared real world evidence of the success of adoption of digital tools by faculty as well as the trainees.
The session was followed by an over 40 minutes Q&A and discussion session with an engaged audience. CAP's President Elect, Dr. Donald S. Karcher shared his support for remote sign-out and probed the panelists on the possibilities of bringing down the cost barriers to enable more wide-scale adoption of digital pathology. His comments were echoed by other participants who talked about the ongoing supply chain issues that may be hindering the adoption of digital pathology tools in some geographies. The panelists also extensively discussed the advantages of digital pathology education in disseminating quality content across geographies, especially for trainees and pathologists in resource-limited settings that are in great need of trained expert pathologists. The discussion also revolved around the limitation of access to broadband internet connectivity for these offerings to make a valuable impact as well as narrow down the existing socio-economic divides.
Overall, it was a stimulating session highlighting innovative approaches of transforming pathology education that are becoming mainstream by each passing day and a treasure trove of real world evidence to inform attendees about the significant benefits of adopting digital tools for pathology education and practice. I could not have asked for a better panel and I congratulate each one of the panlists in tirelessly pushing the frontiers of digital pathology education forward.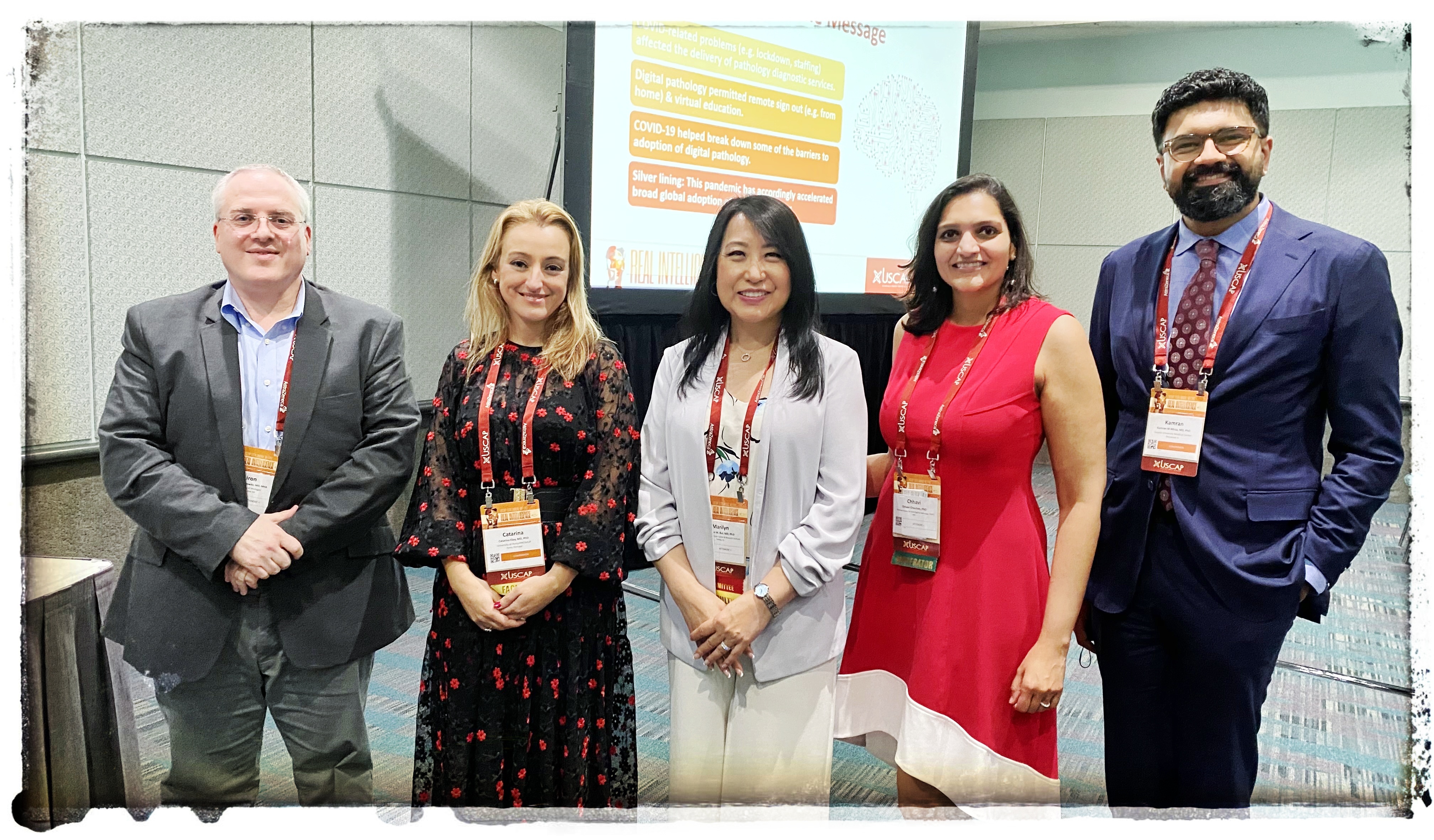 Note: Chhavi Chauhan is Director of Scientific Outreach, The American Society for Investigative Pathology (ASIP). ASIP is proud to be a DPA Allied Society. Other DPA allied societies include: American College of Veterinary Pathologists (ACVP), Association of Pathology Informatics (API), Chinese American Pathologists Association (CAPA), College of American Pathologists (CAP), European Society For Digital and Integrative Pathology (ESDIP), International Academy of Pathology (IAP), National Society for Histotechnology (NSH), The Royal College of Pathologists of Australia, Quality Assurance Programs (RCPA QAP), and Society for Imaging Informatics In Medicine (SIIM)
Disclaimer: In seeking to foster discourse on a wide array of ideas, the Digital Pathology Association believes that it is important to share a range of prominent industry viewpoints. This article does not necessarily express the viewpoints of the DPA, however we view this as a valuable point with which to facilitate discussion.