by the DPA Reimbursement Task Force
Key Takeaways for the DPA community
13 new Category III CPT® codes relating to digital pathology will become effective January 1, 2023

Category III CPT codes are temporary and are meant to track adoption of new technologies in the clinical space

There is no coverage or payment tied to these CPT codes at this time

The DPA encourages laboratories who use digital pathology in their clinical work to adopt the "add on" codes in 2023.
Decoding the New Category III CPT® Codes for Digitization of Glass Slides
You may have heard that the AMA recently created 13 new Category III CPT codes related to digital pathology (see table below). According to the AMA, these codes are intended to be used to report the additional work required for glass slide scanning and digitization. Once effective, the codes may be reported on reimbursement claims in addition to corresponding primary diagnostic pathology procedures (e.g., core histology and special and advanced staining procedures). For background, Category III CPT codes are generally non-reimbursable; are temporary in nature; and are primarily used to track clinical adoption via associated volumes for emerging technologies in the U.S.
While there may be no associated coverage or payment for these codes, it is important for labs to understand how and when to use the new codes because this will be a helpful first step for pathology labs and stakeholders (e.g., the College of American Pathologists (CAP), the AMA's CPT Editorial Panel, the Centers for Medicare & Medicaid Services (CMS) and other payers to learn more about the volume of additional work associated with digitization procedures. The new codes become effective January 1, 2023, so labs still have about five months to prepare to start using the codes.
New Category III CPT Codes for Digital Pathology Digitization Procedures
(Effective January 1, 2023)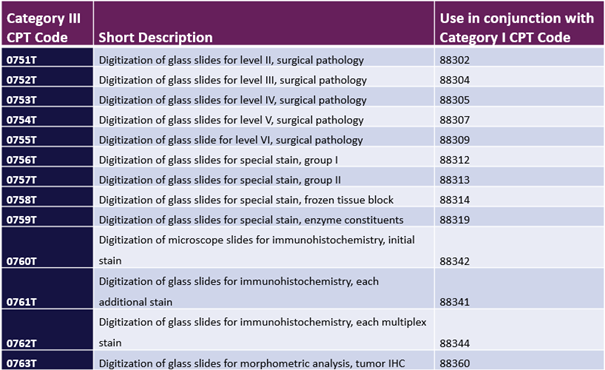 Source: American Medical Association
CPT Editorial Panel Summary Info: New Category III Digital Pathology Codes
Laboratory providers will have approximately 5-months to plan/prepare for implementation of these codes which become effective January 1, 2023.
According to the AMA/CPT publication, there are some "dos and don'ts"
DO REPORT
The appropriate new Category III CPT add-on codes for dates of service on or after January 1, 2023 when the digitization procedure is performed and reported in conjunction with the primary Category I code services (e.g., initial case work-up and diagnosis)


DON'T REPORT the New Add-On Codes for Digitization for:
Archival purposes;

Educational purposes;

Developing a database for training or validation of AI algorithms; or

Solely for clinical conference presentations (e.g., tumor boards)
How will the DPA support?
We will continue to provide further details as they emerge and, again, encourage labs/providers to develop internal processes and begin using the codes once effective (dates of service on or after January 1, 2023.
Check out our FAQ for more information; we will update it regularly as we learn more.
What do you think? Share your thoughts with the pathology community and let us know about your experience. Join the conversation on DPA Collaborate for more on this hot topic!
References:
Disclaimer: In seeking to foster discourse on a wide array of ideas, the Digital Pathology Association believes that it is important to share a range of prominent industry viewpoints. This article does not necessarily express the viewpoints of the DPA, however we view this as a valuable point with which to facilitate discussion.